PCN.COCKPIT

Get here the latest information about the new pcn.cockpit. The basic version will be available during the fourth quarter of 2016.
Use our powerful smartPCN ecosystem to manage easily all tasks related to PCN. No more hassle with spread sheets and different IT-systems. Our pcn.cockpit is browser based and available with powerful options and features. Do you need an interface to your IT-systems? Just ask us.
Get those things done with your pcn.cockpit:

import classic PCN and smartPCN

assign a PCN to affected products or facilities

plan and track all tasks and resulting actions

define appropriate measures and control the implementation

create status reports for PCN and tasks

create your own smartPCN for your customers

manage your bill of materials for automated BOM-PCN matching

granted access the pcn.global database for thousands of preprocessed PCN and load them
The pcn.cockpit is based on the smartPCN standard developed by COG Component Obsolescence Group Deutschland e.V.
The pcn.cockpit and smartPCN are designed to handle all kinds of product changes: hardware (electronic parts, electromechanical parts, mechanical parts, modules), software and material. It works for changes affecting a product as well as modifications impacting your facilites like a production line. It is applicable to all organisations and functions like procurement, operations, maintenance, R&D, engineering, sales and service.
Your benefits are:

all PCN in one place, in the same format


most important information at a glance

automated integration of relevant data and documents

easy linkage to other ERP systems

efficient and fast processing of PCN through workflows and the involvement of all responsible authorities and organisation units

convenient creation of new PCN for your customers

easy handling and high usability

consistent and complete documentation
Your pcn.cockpit could look like this *: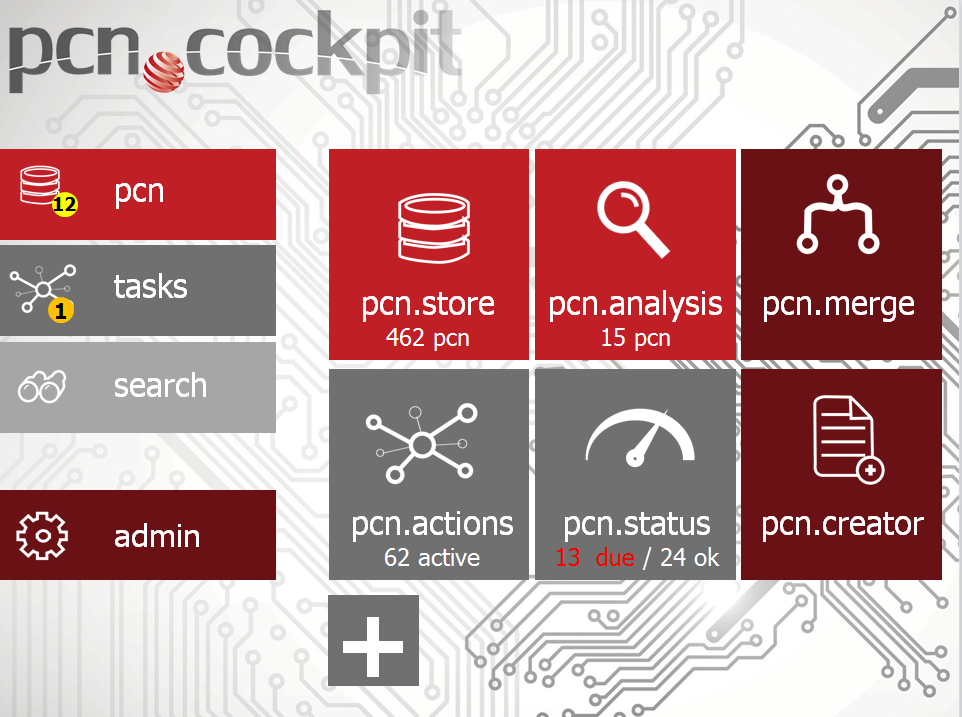 * non-binding, exemplary illustration

Do not hesistate to contact us for further questions. We are looking forward to hearing from you soon.